LET YOUR GARDEN PATH HAVE A BEAUTIFUL PATTERN SO THAT THE ROAD IS NO LONGER RIGID!
DIY Path Floor Mould Maker fulfills your dream of decorating your own pathway & garden!
You can make a cement garden path in flawless patterns, smooth surface & even filling with these molds. Everything can be easily done – Just fill the mold with concrete, smooth surface, and remove mold and you're done!
DIY Path Floor Mould Maker is a paving mold used to make a cement (or red mud) garden path. Let your garden path have a beautiful pattern so that the road is no longer rigid.
Durable Material: It is a reusable plastic mold for creating patterned walks, path, patios, sturdy and durable.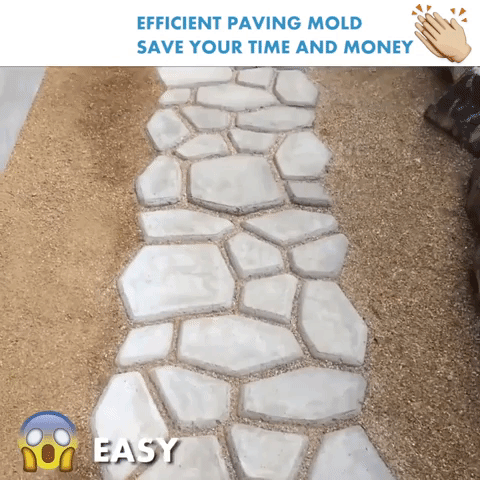 Suitable for gardens, meadows, balconies, villas and more.
Easy to Use: No special skills required. Just put the cement into the mold.
It can be used repeatedly or multiple times at the same time until all the roads have been completed.
Easy to Clean: Just take out the mold before the concrete is solidified and clean it with water, it can be reused next time.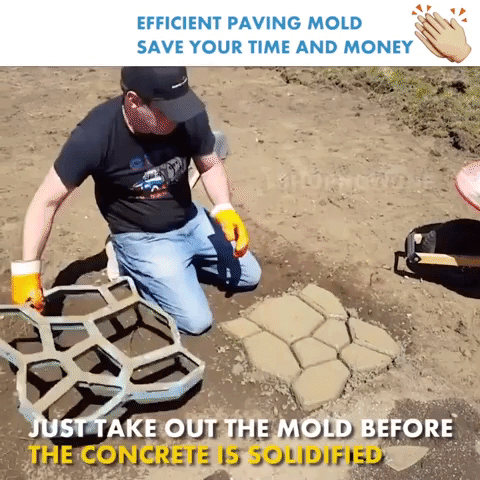 It is possible to make roads of different colors, and it is only necessary to blend the cement inside into colored, without expensive equipment and laying costs. Save money, convenience, beauty, and practicality.
DIY Your Garden NOW!: This mold is designed for the garden-lovers, who want to create their own design decoration to make their gardens more beautiful. To give your pavement and yards some artistic sense.
HOW TO USE TO BUILD THE PATHWAYS
Step 1: Mix cement with water, according to package directions. When ready to use, the concrete will be the consistency of oatmeal and thick enough to hold an edge when you slice into it with a shovel.
Step 2:
Fill the paver mold, scooping the concrete in with a shovel, and making sure to fill each area.
Step 3: Using rubber gloves, spread the concrete around the mold, filling in any gaps or low points. Tap the mold with your hand to eliminate any air bubbles.
Step 4: Following the contours of the mold, smooth out the concrete, wiping away any excess.
Step 5:
Allow the concrete to set for a maximum of five minutes, then carefully remove the mold. For the next stretch, rotate the mold a quarter-turn and place it beside the paver just completed, angling slightly if you're creating a curving pathway.
Step 6:
After letting the concrete cure overnight, fill the cracks with dirt, and wash away any excess. Wet the ground around the newly formed pavers to help them settle.
SPECIFICATIONS
Material: Plastic
Sizes:

A: 30 x 30 CM
B: 40 x 40 CM
C: 36 x 36 CM
PACKAGE INCLUDES
NOT SOLD IN STORES!
Please note that Shipping Time will take approximately 3-4 weeks.
SHIPPING INFO
How long will the order processing take?

Orders typically take up to 7 days to process before they ship – excluding weekends and holidays. During the holidays, processing times may take up to 14 days. You will receive an email confirming your purchase with the shipping tracking number when your order is shipped out.
How long will it take for me to receive my item?

US orders will be shipped via USPS. Shipping methods for international orders will vary based on the shipping address provided.
Transit time to the US: 5-20 business days
Transit time to international: 10-45 business days
An order takes 3 weeks on average to ship.
There are circumstances that are out of control (natural disasters, holidays, weather, etc) that may cause shipping postponements. While most packages will arrive on time, there may be circumstances and delays that our carriers may experience. For this reason, we do not guarantee the exact delivery time; delivery issue is the responsibility of the shipping company.
Please note that Shipping Time will take approximately 3-4 weeks.